Restaurant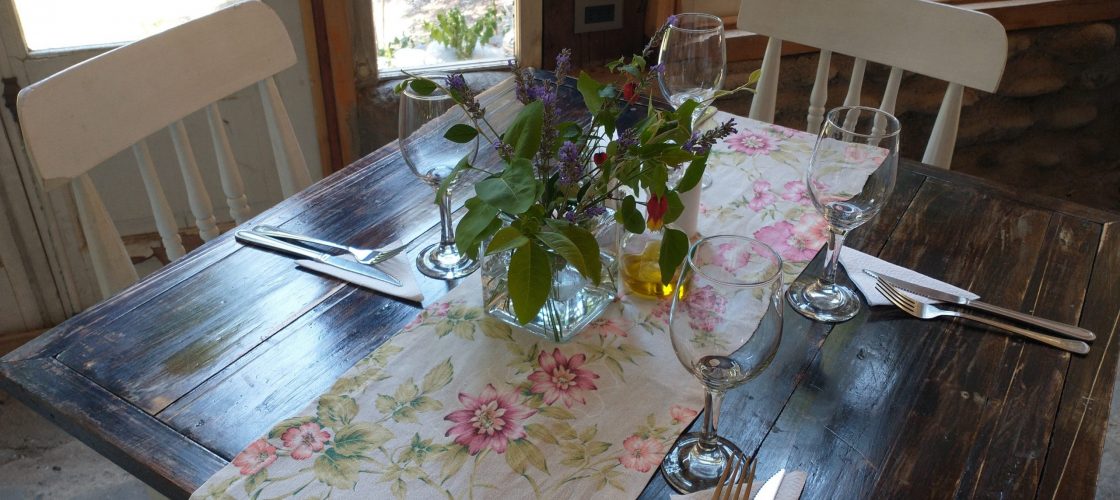 Located steps from the cabins, it is a charming space, with a privileged view of the Claro River, where you can enjoy the warmest homemade flavor, in tune with the place's surroundings.
Service:
The restaurant offers tasty dishes. During the week, our menu varies between exclusive pastas, pizzas and homemade dishes from artisan producers.
All week we have cocktails, especially an excellent "Provincia Gin", produced in Shangri-la, with botanicals from the area and which has been awarded important international awards.
During the summer we implement a beautiful outdoor terrace, to enjoy a common space, in addition to the dependence of the rest of the bar. Meals can also be served in the same cabin.
Events:
We have capacity for 50 people. We prepare Patagonian lamb on a stick, buffet sword meats with varieties of gourmet accompaniments.
Important:
Currently, meals are being served directly in their cabins, since the restaurant is closed for remodeling. It will be open soon, only for Lodge passengers.
When the weather is with us, due to Covid protocols, we implement a beautiful outdoor terrace, to enjoy a common space.
Note:
Due to the pandemic situation, the conditions and characteristics of the event service may vary.
""Excellent to leave the everyday noise""

"Shangrila Lodge is a place where young and old alike have much to discover and enjoy; trekking, horseback riding, massages, hot tub, swimming in the river, and good food" Christian


""A wonderful place""

"We were more than surprised with the place, service is excellent, the staff always with smiles and happy to help, the place is beautiful and the owners always make sure there are plenty of activities" Maite


"Excellent weekend"

"Excellent food, well looked after, wonderful beer, 100% recommended and very safe for children" Genaro


"MAGICAL"

"Everything comes together to make your stay a pleasure, cabins with fireplaces, fully equipped, wonderful scenery, the river and the friendliness of its people away. I highly recommend you get to know this place." Bernardita